Alumni Spotlight: Ali Miller, RD, CDE, BS ('09)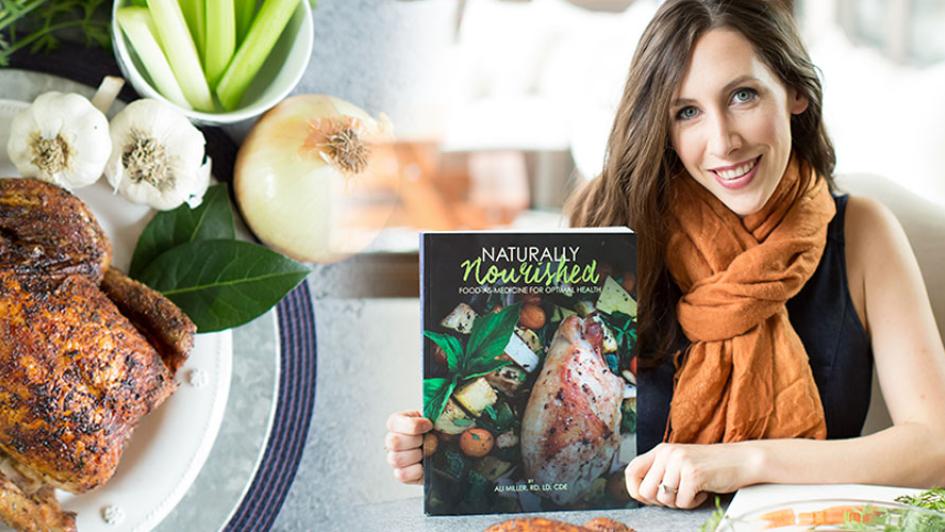 "Everything you eat provides a signal to your body leading to optimal functionality or disease," says Bastyr University alumna Ali Miller, RD, CDE, BS ('09), a certified weight management specialist and therapeutic lifestyle healthcare practitioner. Naturally Nourished is the name of her 2016 book, award-winning podcast, supplement line and private practice, as well as her professional approach to integrative functional medicine.  
Bastyr students can meet Miller when she kicks off her latest book tour for The Anti-Anxiety Diet Cookbook: Stress-Free Recipes to Mellow Your Mood on October 3 at Bastyr's Kenmore Campus. 
Honors and Accomplishments 
Named one of 2015's "Top 50 Most Influential Women in Houston" by Houston Woman Magazine and frequently featured in health magazines like O, The Oprah Magazine and Women's Health, Miller recently worked with the National Institutes of Health (NIH) to develop a Food-As-Medicine protocol as part of a stage III breast cancer research study at MD Anderson Cancer Center. She also assists neonatal specialists, surgeons, oncologists, endocrinologists and cardiologists with her virtual Food-as-Medicine ketosis program. 
Bastyr's Strong Influence 
In a recent interview, Miller revisited the many ways her nutritional sciences studies at Bastyr influenced her current food-as-medicine approach to disease management. "I was strongly influenced by the naturopathic focus on addressing disease from the root cause and approaching healing from the gut," said Miller. "Traditional Chinese and Ayurvedic medicines and classes like Whole Foods, Therapeutic Foods, and culinary classes — along with a personal health crisis — led me to redefine my relationship with food," she explained. 
"I was always enamored with how nature provides," said Miller, adding that she believes combining scientific discovery with nature to be the optimal way to healing. So as a Bastyr student, she adopted a many-thousand-year-old ancestral approach to nourishing the body wisely, one that prioritized eating locally grown food as a means to sustainability. Miller credits her transition from a vegan to a paleo diet (years before it became popular) with resolving her health issues. This in turn inspired her to share the solution with others. 
Early Career 
Miller began her career with the Texas Medical Center and The Center for Integrative Medicine. Her regularly produced Food-as-Medicine TV segments created a launch pad for her private practice. As patients began to experience positive results under her guidance, Miller's practice grew to a staff of eight, including three dieticians, before she went virtual in 2017 to spend more time with her new baby. 
Anti-anxiety Diet Germinated at Bastyr 
Miller's recent books on reducing anxiety through diet also germinated from her Bastyr studies. "I didn't know what functional medicine was before I got to Bastyr," Miller acknowledged, but an elective Functional Medicine course taught by Michelle Babb, MS, RD, CD gave Miller a semester in clinic with patients. "I remember Jeff Bland, president of the Institute for Functional Medicine, lecturing on Linus Pauling, the champion of high-dose vitamin C," said Miller, "and that's when I decided to learn and master biochemistry to understand which nutrients affect which pathways." With this understanding, she now uses targeted nutrient therapy and works upstream to get to the root causes of ailments, helping patients optimize blocked pathways by meeting increased needs with increased nutrition. "We nourish the squeaky wheel," she explained.   
Patient Case  
For example, Miller spoke of a peri-menopausal 54-year-old woman experiencing increased belly fat, elevated blood sugar, borderline depression, insomnia and hair thinning. Conventionally, such a patient might be prescribed five different pharmaceutical medications, each with a different mechanism to block pathways and manipulate bodily functions. However, Miller's approach in a case like this is to test for micronutrient deficiencies. "A lack of the nutrient biotin could affect hair growth, weight gain, blood sugar, sleep and mood," she explained. "A full discussion of diet revealed that the patient was eating egg whites, which bind biotin. So I suggested returning to whole eggs, adding biotin-rich foods, and supplementing."