Building National Attention: Midwifery Student Travels to Capitol Hill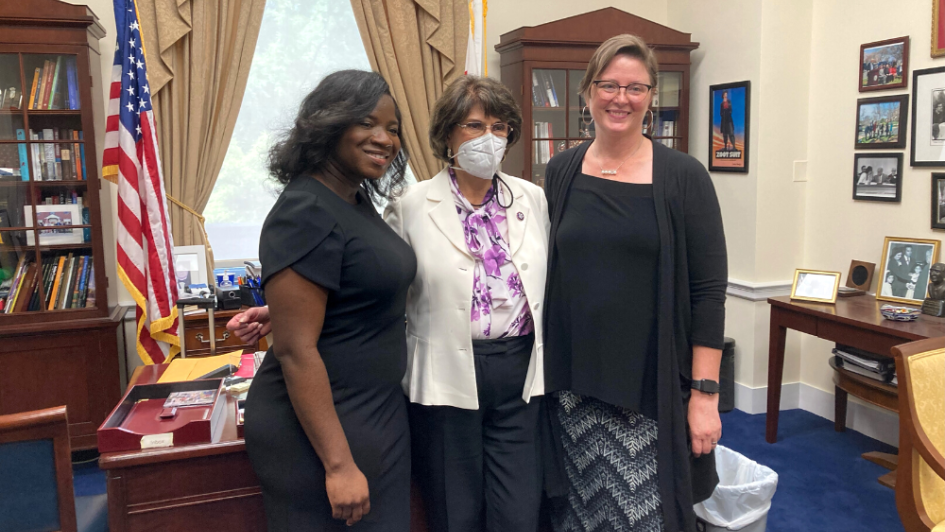 Published September 05, 2022
You may have seen some of the headlines: Maternal and infant mortality numbers are high here in the United States. They're higher, in fact than any other industrialized country, despite spending the most on health care per capita ($50 billion/year)2. The number of deaths per 100,000 births for Black non-Hispanic [birthing people] in 2018 (37.1) was more than two times higher than that for white [birthing people] (14.7)1. Much needs to be done to decrease these numbers, but two solutions are expanding access to midwifery care and educating more BIPOC midwives. These two issues took center stage on Capitol Hill as part of the "Solutions for Scaling Up and Maximizing Evidence-Based Midwifery and Birth Center Care in the U.S." House Briefing.  
Two Acts, One Goal – Improving Outcomes. 
Midwifery Chair Dr. Wendy Gordon and student Azalea Salter testified at a July 13 congressional briefing in support of the Midwives for MOMS Act4. For decades, research has shown that midwifery care is associated with positive birth outcomes and lower health care costs2. Federal funding for the Midwives for MOMS Act will go towards diversifying the midwifery workforce, as well as attracting students who plan to practice in an area with a shortage of health professionals.  
"It is time for midwifery care to take its rightful place once again in our maternity care system," said Dr. Gordon.  
A second initiative, known as the BABIES Act, seeks to promote accessible and affordable use of freestanding birth centers by Medicaid beneficiaries. According to the American Association of Birth Centers (AABC), "the legislation provides guidance to develop a cost-based payment model that would reimburse birth centers for prenatal care, perinatal, and postpartum mother and infant care. By providing a model of cost coverage for freestanding birth centers, we can continue to use cost-effective, creative solutions to improve maternal mortality and infant outcomes3." 
Starting in the Classroom 
Last year, Bastyr's Department of Midwifery received a $3.25 million scholarship through the U.S. Health Resources and Services Administration (HRSA). It is the only direct-entry midwifery program in the U.S. to receive this large federal grant. These funds have helped to attract, retain, and support a diverse student body. The National Association of Certified Professional Midwives (NACPM) has been lobbying for the inclusion of midwifery education programs in this federal grant for many years, and it has finally come to fruition.  
This year, 25 students received scholarships in amounts ranging from $20,000 to $40,000 each; 16 of these scholars identify as BIPOC, and 13 are first-generation college students. Azalea is one such student – in D.C., she discussed how the scholarship allowed her to attend midwifery school debt free.  
"This was such a humbling opportunity I'll never forget! Honestly, I'm still "landing" from the experience. I'm just a girl from the South, raised in challenging circumstances who defied the odds and dreamed BIG. I still do!" said student Azalea Salter. 
For more information on Bastyr's midwifery program, visit https://bastyr.edu/academics/midwifery.  
References: