Lego Ad Hero, Naturopathic Doctor: Meet Rachel Giordano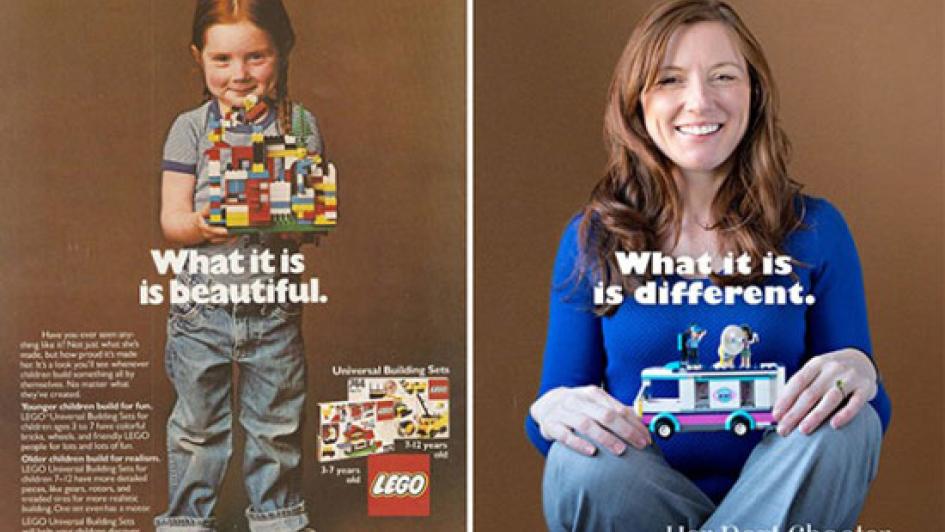 You may have seen her smile recently flickering across the Internet: A 4-year-old in pigtails proudly holding a Lego creation she built for a 1981 advertisement. Or you may have seen the updated version: The same girl, all grown up, holding a new Lego product in a wry statement about the messages that toys signal about gender.
What you may not know is this: That playful woman is a Bastyr University alumna with two growing naturopathic medicine practices in Seattle. Meet Rachel Giordano, ND ('12), unlikely viral media star and thoughtful commentator on gender, medicine and childhood.
Dr. Giordano's childhood smile exploded across the social web thanks to a January Huffington Post article that became one of the site's viral hits, attracting nearly 60,000 Facebook shares. The image comes from her work as a childhood model in New York City. On the day she made the ad, she was given a set of original Legos and an hour to play with them. She appears in her street clothes with the line "What it is is beautiful."
Ad-watchers have praised the piece for suggesting that girls delight in building just as boys do. Feminist blogs contrasted it with the rise of pink marketing for girl-only toys. Then a writer at Women You Should Know contacted Dr. Giordano with a clever idea: A new photo of her holding a pink Lego "news van." The van includes no reporting equipment — but a large makeup vanity for the female newscaster. ("Because that's what journalism is all about!" one blogger quipped.)
The new illustration (above) flew across social media too, with Dr. Giordano's smile again grabbing attention. That's been a fun surprise for the recent graduate.
"It's been really exciting and certainly has brought back memories of being a childhood model," she says. "I'm also very excited about the opportunity to bring greater awareness to the naturopathic profession."
She says her freedom to play however she wanted as a child gave her the confidence to become a naturopathic doctor (ND).
"I know that how I played as a girl shaped who I am today," she told Women You Should Know. "It contributed to me becoming a physician and inspired me to want to help others achieve health and wellness."
Since graduating from Bastyr's Doctor of Naturopathic Medicine program, Dr. Giordano has focused on building two practices she co-owns with her fiancé, a chiropractor. Their clinic Seattle Weight Loss and Wellness offer naturopathic care, chiropractic, physical therapy, massage, acupuncture and a fitness department. Stability Spine & Wellness, also in Seattle, combines chiropractic care and naturopathic medicine.
Dr. Giordano has found that naturopathic medicine can be a powerful tool for helping patients find freedom from constricting gender expectations.
"Because of the holistic nature of our care for patients, those of us who practice natural medicine tend to create a more nurturing space for people to explore who they really are," she says. "That's a part of healing."
When the writer Lori Day called to talk about girls and toys, Dr. Giordano responded, "Toys are supposed to foster creativity. But nowadays, it seems that a lot more toys already have messages built into them before a child even opens the pink or blue package.
"… Doctor kits used to be for all children, but now they are on the boys' aisle. I simply believe that they should be marketed to all children again, and the same with Legos and other toys."
(Here's a collection of then-and-now images showing how girls' toys have become more feminized.)
Dr. Giordano says she barely remembers shooting the Lego ad, one of many during her child-modeling career. Its popularity online reminds her of the impact she can have through her current work as a healer.
"I'm humbled and amazed when I think about how impactful my role as an ND is and can continue to be," she says. "I have such an amazing opportunity to improve people's lives in such a profound way. As a result, I'd like to thank everyone at Bastyr who helped me get to where I am now."
Image: Anita Nowacka
----
Learn more about studying naturopathic medicine at Bastyr.