Marinated Baby Bok Choy Salad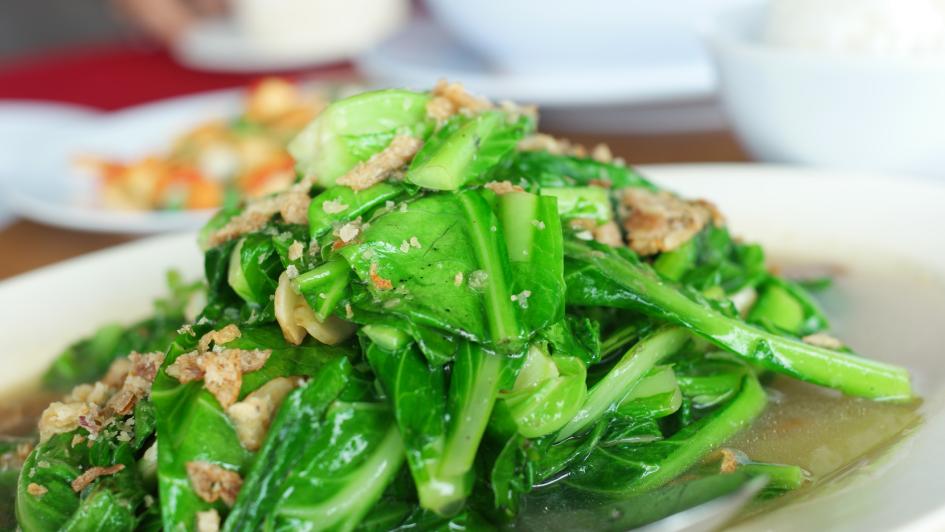 Sauté this dish in a wok and enjoy with rice and your favorite protein!  
Ingredients: 
4 tablespoons plus ½ tablespoon sesame oil 
2 cloves garlic, minced 
6 bunches baby bok choy (approximately 1 pound) * 
¼ cup red onion 
1 cup shiitake mushrooms 
½ cup rice vinegar 
1 teaspoon honey 
1 teaspoon low-sodium soy sauce  
¼ teaspoon crushed red pepper 
Sesame seeds for garnish (optional)   
* Cook's Tip: To easily wash bok choy, partially fill sink with cold water, place sliced bok choy in, any sand will sink to the bottom. 
In a small saucepan over medium-high heat, sauté garlic in ½ tablespoon sesame oil until brown, approximately 2-3 minutes.  Set aside to cool.  Remove stem base of baby bok choy, julienne, wash.  For a softer texture, baby bok choy may be quickly blanched and cooled before adding to salad.  Julienne onion and mushrooms, combine with sliced bok choy.  Mix garlic, rice vinegar, remaining sesame oil, honey, soy sauce and red pepper, making sure that honey is dissolved.  Pour marinade over vegetable mixture.  Toss well to cover all vegetables.  Cover dish and marinate in the refrigerator for at least 30 minutes, stirring occasionally.  If preferred, add more soy sauce and/or red pepper to taste.  Garnish with sesame seeds and serve.  Enjoy! 
Preparation: 20 minutes to assemble, 30 minutes to marinate 
Yield: 4 servings 
Original Recipe by Alena Marr