My Belly Lab Experience as a Student Midwife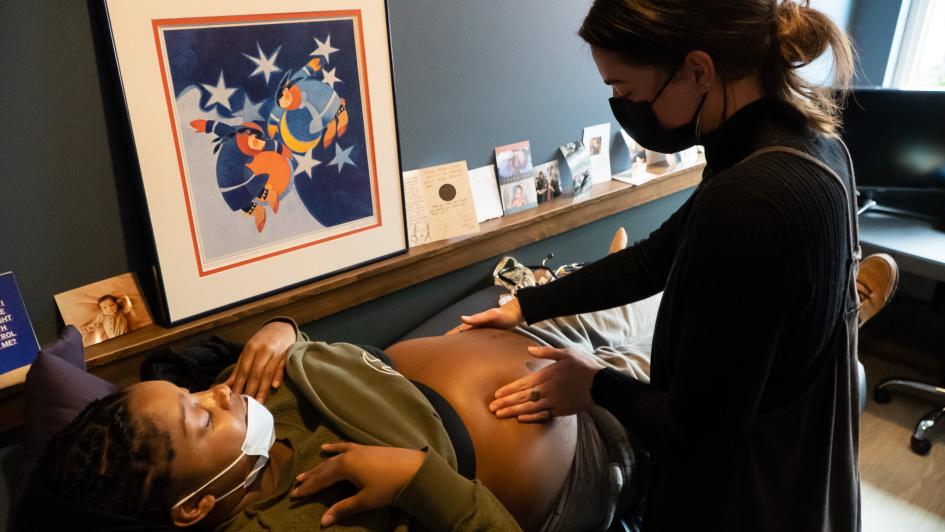 For students in the midwifery program, Belly Lab is a day you hear about even before your first day of classes. So, it goes without saying that when Belly Lab finally rolled around during my second onsite of Winter quarter, I was SO excited!
Belly lab is no small feat! Several generous and willing pregnant people (often our teacher's clients or friends) volunteer to let student midwives like myself learn how to find fetal heart tones using different devices, calculate gestational age, and try to figure out baby's position in the belly using just our hands.
For our onsite, we had three pregnant people volunteer to let us develop our hands on skills on them. They were 15 weeks pregnant, 34 weeks pregnant, and 38 weeks pregnant! 
I started first with the client who was 34 weeks pregnant and it was surprising to realize how much information you can learn with just your hands, but also how you have to fine-tune those tools to work accurately! For example, I would spend a minute or two feeling the belly with my two hands and make a guess about the baby's position (head down or breech, where are the arms and legs, etc) and then the TA who had a year more of experience could feel much quicker and then confidently say whether I was right or wrong. It was inspiring and exciting to see how much we would learn in a year's time. 
It was surprising to me how different it was to find fetal heart tones of babies and bellies of different sizes. For example, on the babies who were older, we would use our hands to feel where in the belly they were, specifically their back or spine, then listen from their spinal side as it usually has the strongest beat because arms and legs can get in the way from the other side. Finding the fetal heart tones on the 15 week old fetus was a totally different challenge because at that point in pregnancy, the uterus has barely grown above the pelvis and the baby is taking up a very small amount of space in that smaller uterus. One of the students in our class had the honor of finding her first fetal heart tones, which also happened to be this person's first time hearing her baby's heartbeat! It was an honor to be let into this space and share these unforgettable moments with real clients.
It was also cool to already be able to distinguish between the pregnant person's, baby's, and placenta's heart beat by the end of the lab. I remember during our demonstration at the beginning of belly lab being so confused by how our teacher could say "oh right now I am listening to the placenta" or "that's mama," but after finding it several times myself and listening to my classmates finding fetal heart tones as well, I had already began to develop that skill. 
My classmate said it best when we were walking to our cars at the end of the day when she said, "that was easily my favorite day in this entire program. I felt like I was really practicing how to be a midwife. Now I can't wait for clinic to start and to get to learn hands on skills like this all the time."
If you would like to hear from other students about their Belly Lab experience or to learn more about the midwifery program, reach out to one of our student ambassadors from the midwifery program to learn more! 
About the Author
Rachel Wright is a first year midwifery student in Kenmore, WA. She believes that it is every birthing person's right to feel emotionally, spiritually, and physically safe and supported during their pregnancy and birth experience. Her clinical interests include prenatal nutrition, vaginal seeding, and trauma-informed care.