Recipe: Beet and Kale Salad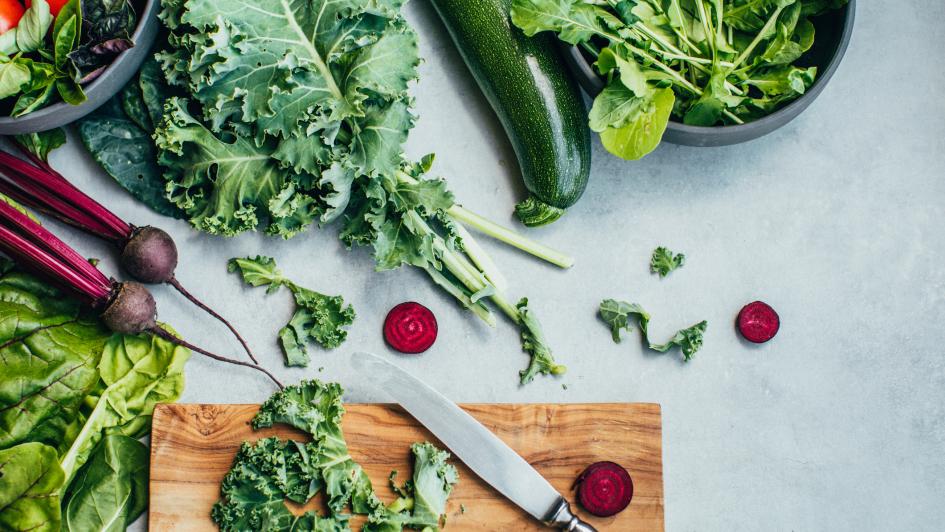 In natural medicine, beets are considered a liver support food, important for renewing the liver's vital functions of keeping the body free of toxins. This vivacious salad boosts the body's immune system as well by offering a high dose of antioxidant power via carrots and kale. 
Salad
4 large beets
1/4 cup toasted pumpkin seeds
1 bunch kale
3 scallions
1 medium carrot
Dressing
3 tablespoons extra virgin olive oil
2 tablespoons balsamic vinegar
3/4 teaspoon dijon mustard
1/4 teaspoon freshly ground pepper
1 tablespoon chopped fresh basil
1 teaspoon finely diced garlic
Instructions
Wash beets and bring to a boil in a large pot. After boiling bring to a simmer, continue to simmer for one hour, until tender. Let cool, then peel beets and cut into 3/4 inch pieces.
In the meantime, lightly toast the pumpkin seeds by placing them in a dry skillet and cooking over medium heat. Constantly stir the seeds to ensure even cooking. When they begin to pop and give off a nutty aroma, they are ready. Set aside to cool.
Wash kale and place in a large pot of boiling water for 30 seconds. Place in strainer and cool with cold water, cut into bite size pieces. Finely dice the green onions and peel the carrot. Slice into 1/8-inch rounds.
Place all dressing ingredients in a bowl and mix well with a wire whisk. In a separate bowl place chopped beets, chopped kale, diced green on-ions, sliced carrots and pumpkin seeds. Add dressing and toss gently. Serve chilled. Makes approximately six servings.
Recipe by Cynthia Lair, By CHN