Recipe: Tuscan White Bean Kale Soup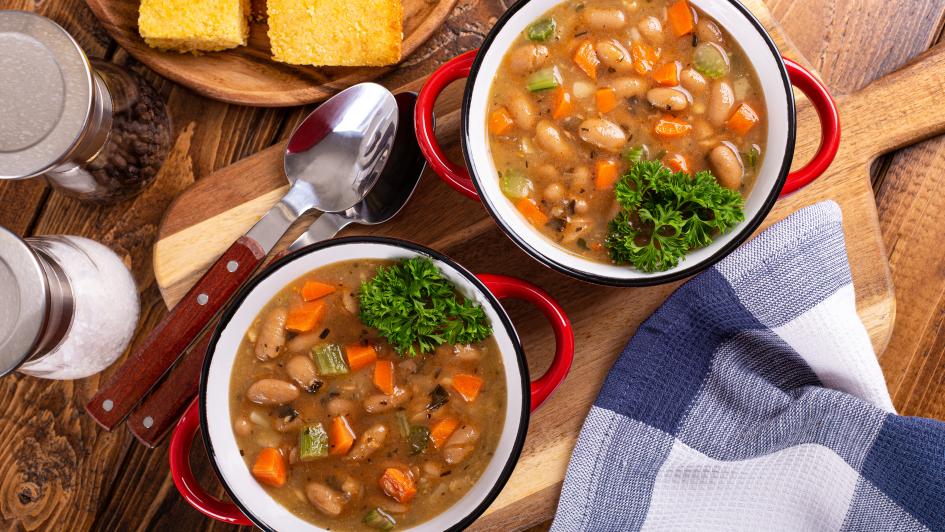 The best Tuscan White Bean Kale Soup recipe with winter squash, leeks, lacinato kale and creamy cannellini beans. Super easy to make, without meat, 100% vegan, and gluten-free!
Prep Time 40 minutes
Serves 4 people
Ingredients
2 tablespoons olive oil
1 small yellow onion - chopped
2 cloves garlic - minced
6 sprigs thyme
1 sprig of fresh rosemary - chopped
2 bay leaves
1/2 acorn squash, diced
6 cups veggie stock (low-sodium)
sea salt & black pepper to taste
15 oz canned cannellini beans (drained, or 2 cups homemade cooked beans)
1 bunch of Tuscan kale (about 3 packed cups), de-stemmed and cut into bite-sized pieces.
1 pinch red pepper flakes
lemon wedges for serving
Instructions
In a heavy-bottom stock pot over medium-high heat, add olive oil and onions. Saute for a few minutes until translucent and fragrant. Add the garlic, thyme, rosemary and bay leaves.
Add the acorn squash and stir well. Add vegetable stock and bring the soup to a simmer.
Simmer for 15 – 20 minutes, until the squash is cooked and fork tender. Add the cooked beans, salt and pepper.
Discard the bay leaf and thyme sprigs.
Taste and adjust seasonings with sea salt and black pepper to your taste.
Transfer two cups of the soup to a blender and puree until smooth. Add the puree back into the soup pot and mix to combine.
Add chopped kale and mix until lightly wilted.
Serve hot with a pinch of red pepper flakes and lemon wedges on the side.
Recipe adapted from Florentina at veggiesociety.com, by Fernanda Larson, MS, CN. 2019.