President's Message: November 9th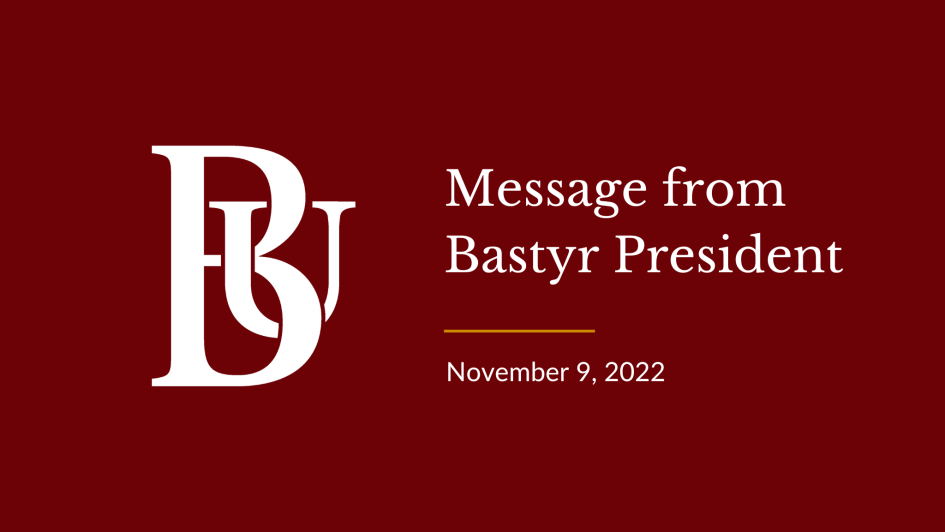 Dear Bastyr Community,
Hello again, this month there are several opportunities to engage and learn about what's happening at Bastyr.  This month's message includes information on Native American Heritage Month and Veterans Day  
Native American Heritage Month
This month, we commemorate Native American Heritage Month to honor all Indigenous peoples past and present on Turtle Island, and to celebrate their rich and diverse cultures, traditions, and stories. Acknowledging the important and ever-relevant contributions of Native peoples, I invite you to see this month – and every day – as an opportunity to be educated about the Native tribes and their culture and histories; to raise awareness about the unique challenges Native people have faced both historically and in the present and the ways in which they have worked to conquer these challenges; and to engage intentionally to rectify the harms inflicted on Native communities over time. The Office of DEI is hosting multiple education opportunities this November. I invite each of you to click on the link to the DEI newsletter below as a means to begin – or continue – your learning about Native heritage and history.
Recognizing our Veterans 
On November 11, we honor all persons who served in the U.S. Armed Forces as we celebrate Veterans Day. To all the students, faculty, staff, and alumni in our Bastyr community who are U.S. military veterans and active personnel, we remember and recognize your sacrifices, honor your dedication and commitment, and are grateful for your service to this country. We also honor those of you who are families and loved ones of those who have or are serving, and who have been one with our veterans in their service and sacrifice. From your Bastyr family, a huge thank you for your selfless care of our community and country on this day, and every day.
Thank you for continuing to make our Institution a place where so many are fulfilled, find their purpose, and are welcomed.  Have a great remainder of the week and month.
Sincerely, Devin Byrd, PhD President