Landscape Design Certification Overview
Our world needs more landscape designs that work with nature, not against it. As a student in Bastyr's Holistic Landscape Design Certificate program, you'll experience a green education that connects you emotionally, physically and intellectually to the earth. You will take courses such as soil ecology, mycology and medicinal and edible plants in the landscape. This program will give you the guidance and resources needed to launch a career creating self-sustaining, efficient landscape systems for community settings as well as private residences. 
Cost
$839/credit hour (average)

Entering the CHLD program was a pivotal choice for me and changed the whole trajectory of my life. I gained so much confidence!
Landscape Design Certificate Program Highlights
12
Month Evening and Weekend Course Schedule
Focus on the Therapeutic Value of Medicinal and Edible Landscapes
18:1
Student to Teacher Ratio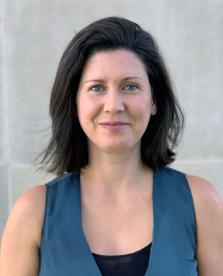 Caitlin Gilson
MA
Caitlin is a permaculture designer who strives to help connect humans to the environment. Prior to her work at Bastyr, she directed the educational programming for the 176 community…
Landscape Design Program Details
Complete one Botany course*
Have completed 90 quarter credits (60 semester credits) of college-level coursework.
Reference our curriculum table for full prerequisites.
*Must cover basic plant morphology and physiology, classification, plant evolution, terminology, and ecology, no labs required.
Strongly Recommended Courses
Though not required for admission, the faculty recommends that students complete biology, chemistry, public speaking, and general education coursework in addition to the botany prerequisite requirement. These courses will substantially enhance students' ability to be prepared for the concepts covered in the holistic landscape design program. Please see additional details regarding these recommendations:
Biology – covering cell and plant biology, no labs required
Introduction to Botany – basic plant morphology and physiology, classification, plant evolution, and ecology, no labs required
Chemistry – survey-level to cover general inorganic and organic concepts, no labs required
Public Speaking - coursework or experience
General Education - including some humanities, English, natural sciences and social sciences courses
For nearly a decade, Bastyr has been certifying professional permaculture practitioners.
The future looks bright for careers in environmental sustainability. The US Department of Labor's occupational handbook lists a number of rising professions in the Holistic Landscape Design arena:
Environmental Scientists and Specialists, Including Health
Industrial Ecologist
Nursery and Greenhouse Manager
Soil and Water Conservationist
Landscape Designer