Program Overview
Become a naturopathic doctor at Bastyr University, an accredited naturopathic medical school. This degree program will train you to diagnose and treat disease using a wellness-first, natural model focusing on improving the function of the whole body versus an over-reliance on medications and surgical procedures.   
This full-time, in-person medical school experience has two main components – basic science and clinical practice. The coursework requires strong scholastic ability, full-time attention and is designed to provide you with an integrated view of the structure and function of the human body, as well as diagnostic, management, and treatment skills. You will have a LOT to learn over four to five years. Starting in your first year you will gain access to the Bastyr clinics where you will begin to merge what you learn in the classroom with real-life scenarios with real-life patients. 
Program Length
4 years for full-time students
5+ years for dual-degree tracks
Credentials Earned
Doctor of Naturopathic Medicine (ND) Degree
Cost
$598/credit hour (average)

The Doctor of Naturopathic Medicine program at Bastyr has been the most challenging, enriching, and fulfilling experience of my academic career. In addition to the intellectual rigor of the didactic classes, you are challenged in both your ability to provide the best care for your patients and your capacity to become a beacon of change and hope for a better health care system at large. Throughout this program, your strengths become refined and your weaknesses evolve into invaluable experiences for growth towards becoming a doctor. The network of clinicians, professors, colleagues, and friends that you cultivate during your time here is the foundation of support from which true leaders grow.
25:1
Student to Teacher Ratio
4,100
Hours of Didactic and Clinical Instruction
45
Residency Sites Located Across 11 States and British Columbia)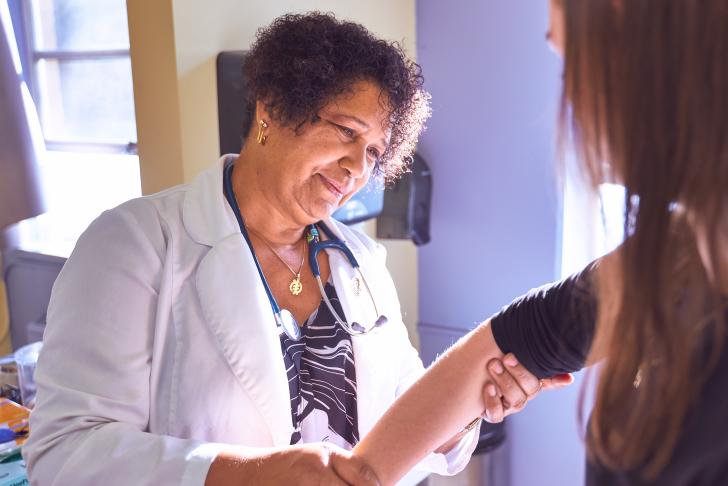 Clinical Training
Train at Bastyr's teaching clinics in San Diego and Seattle and help spread access to natural medicine at our community care sites. Your naturopathic primary care training emphasizes the highest standards in patient assessment, differential diagnosis, medical record documentation, referral practices and patient follow-up. The clinic's natural, non-invasive approach evaluates the whole person to resolve health problems and support a healthy lifestyle that helps prevent illness.



Program Details
In addition to completion of a bachelor's degree (or higher) from a regionally accredited college/university or its foreign equivalent, prerequisite coursework is required preparation for the study of naturopathic medicine. Bastyr University Admissions advisors can discuss details of prerequisite fulfillment. Applicants may apply with coursework still in progress, but must complete prerequisites before beginning the program. No credit is given for prerequisite coursework earning a C- or lower.
Students may take individual, science-based prerequisites as a non-matriculated student. If you wish to discuss taking specific prerequisites at Bastyr, please contact Admissions. Here is a list of courses offered.
Coursework
The following coursework is the minimum required preparation for the study of naturopathic medicine. Applicants may apply with coursework still in progress, but prerequisites must be completed prior to matriculation.
Prerequisite Coursework
College-level Algebra: 1 course
Chemistry* (science-major level): Minimum of 4 courses. Must include a minimum of either two sequential courses in organic chemistry or one course in organic chemistry and one course in biochemistry. (This latter option is highly recommended.) (The standard prerequisite for science-major level organic chemistry is one year of general chemistry.) Appropriate, hands-on lab work required. (Hands-on labs are those taken in person or using home lab kits.)
General Biology* (science-major level): 2 semesters or 3 quarters. Must cover concepts in cellular biology and genetics. Appropriate hands-on lab work required. Individual courses in the biological sciences may count if the above competencies are met, i.e., anatomy, physiology, microbiology, and botany.
Physics: 1 college-level course. It must be algebra-based; calculus-based is also acceptable. A lab is not required.
Psychology: 1 course. Introduction to/ General Psychology or Developmental/ Lifespan Psychology.
*Required chemistry and biology courses not taken within seven years of matriculation into the program are subject to review by the admissions committee. Additional coursework may be (but is not always) required. Please contact Admissions with any questions about older courses.
Please contact Admissions with any questions about older courses, and to inquire about taking specific science prerequisites at Bastyr.
Summer Prerequisite Course(s)
The following course(s) are generally available to fill prerequisites during the summer quarter for the ND program. Summer registration information is sent to all applicants by the admissions office each spring. For further information, please contact Admissions at (425) 602-3332.
Doctor of Naturopathic Medicine
Strongly Recommended Courses
Though not required for admission, faculty recommend students complete biochemistry, anatomy and physiology, and microbiology coursework in addition to the prerequisite requirements. These courses will substantially enhance students' ability to master the naturopathic course material.
Other Suggested Courses
Biomedical ethics, philosophy of science, public speaking, immunology, medical terminology and English composition.
Credit by Examination
Applicants may submit AP, IB, and CLEP scores for prerequisite consideration for math and psychology, and AP or IB scores for physics. Students who have had prior AP or IB coursework in chemistry and biology may submit AP or IB scores for biology or chemistry exams. Students must submit the original score received directly from the testing center. Decisions regarding credit are assessed on a case-by-case basis. The admissions committee reviews test scores within the context of an applicant's academic history. All equivalency decisions made by the admissions committee are final.
A career in naturopathic medicine offers a life's work helping people thrive.
Naturopathic doctor working as a primary natural care physician in private practice or in an integrative medicine clinic
Research in natural medicine
Naturopathic consultant/advocate in industry, insurance or the political arena
Wellness entrepreneur
Natural medicine spokesperson/advisor
Rural community doctor
Dietary supplement entrepreneur or natural products specialist
Corporate wellness educator
Public health administrator
Natural medicine author/public speaker
Faculty member in a naturopathic or conventional medical institution